To view this message in your browser, click
here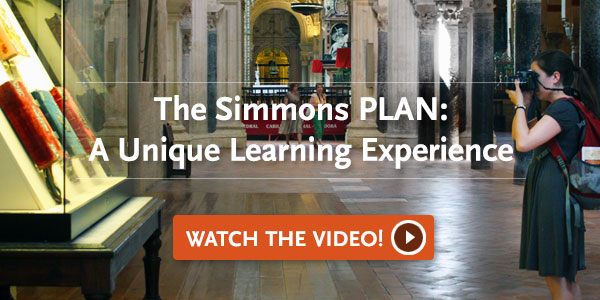 You won't find our innovative curriculum anywhere else.
At Simmons, our general education requirements aren't just a bunch of boxes that students check off to complete their degree. These are real-life experiences that get students out of the classroom and immersed in new and exciting topics. As a first year, they'll dive right in with the following courses:
The Boston Course:

During the fall semester, students choose a course that helps them engage with the city of Boston through an area of interest, such as "News@Boston", "Food is Love," or "What the Health is Going on?" It's a great way to develop friendships and learn about the surrounding area.

The Leadership Course:

Leadership comes in all shapes and sizes, and this course helps students define what leadership means to them. Whether they study female comedians in "Leaders in Laughter" or strong introverts in "How to Lead Quietly," they'll be challenged to find their own leadership style.
The Simmons Course: College can be a difficult adjustment for some, and this course helps support students in the transition to college life. They'll learn how to manage their time, engage with the college community, and navigate the next four years.
If you'd like to learn more about this exciting four year curriculum, check out the Simmons PLAN website or watch "The First Year" video.
Our Early Action I Deadline is November 1, so we encourage students to apply early for priority scholarship consideration.  
Learn more:
> How to Apply
> Majors and Programs
> Requirements and Deadlines

Read about Professor Zuckerwise's PLAN Courses: