Welcome new and returning Rockers!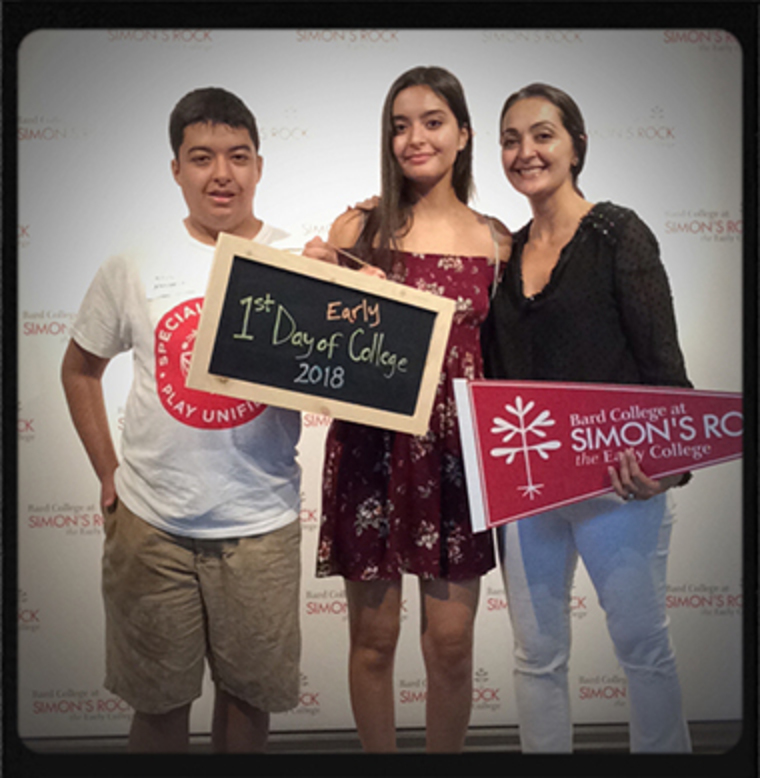 Bard College at Simon's Rock first-year Iman Anwarzai with her brother Zayd and mother Mariam on Arrival Day.
Bard College at Simon's Rock and Bard Academy welcomed first-year students from across the United States to campus during Arrival Day on Saturday, August 18. International students from China, Japan, South Africa, Iran, among others, arrived August 15. Arrival Day kicked off Orientation/Writing and Thinking Workshop week for the first-years. Seniors returned Wednesday, and sophomores and juniors return this Sunday. Fall semester classes begin Monday, August 27.
Pulitzer Prize winner Gregory Pardlo is Book One author
Author and poet Gregory Pardlo will deliver the Book One lecture on his critically acclaimed memoir, Air Traffic: A Memoir of Ambition and Manhood in America, Thursday, August 30, at 7:00 p.m. in the McConnell Theater.
Gregory will also kick off the fall Guest Writers Series when he visits. Students in Peter Filkins's Guest Writers class will read Gregory's Pulitzer Prize-winning collection of poems, Digest.
Read
 about Gregory's new book and his upcoming visit to Simon's Rock.
A Q & A with recent
graduate
 Mo Constantine
Mo Constantine '14 graduated in May, but stuck around this summer to work in the Office of Admission, as well as off campus for a local food startup—a connection made at Simon's Rock's annual ThinkFOOD conference. Mo discovered his passion for food justice and animal rights here. In September, he will further pursue his interests in grad school.
Arielle King '14 earns master's degree through dual degree program
Arielle King received her Master of Environmental Law and Policy at Vermont Law School in May, at the age of 20, thanks to the 3-1 Dual Degree program at Simon's Rock. She is returning to Vermont Law School to pursue her JD in environmental law with a focus on environmental justice, mental justice, and international law.
Read
 how Arielle championed environmental justice while attending Vermont Law School.
Art fellowship program


brings Simon's Rock and
James Weldon Johnson Foundation together again
The James Weldon Johnson Foundation invited four new and one returning artist to its second annual artist-in-residence program this summer. Sonya Clark, Patrick Eugène, Douriean Fletcher, Kamil Peters, and Meclina Priestley were provided housing and use of the art studios on campus, as well as James Weldon Johnson's nearby home and writing cabin, Five Acres. Their completed work will be displayed in a group exhibition in the Hillman-Jackson Gallery at the Daniel Arts Center in the spring.
Read more
 about these five artists and our partnership with the Foundation.
Jennifer Browdy's book wins Nautilus Award
Faculty in Literature Jennifer Browdy's book, The Elemental Journey of Purposeful Memoir: A Writer's Companion, was named a silver award winner in the Creative Process category by Nautilus Book Awards.
Discover
 why Jennifer was inspired to write a guide to help others write their own memoirs.
Students rebuild bikes
in new Motorcycle Club
A new 
Motorcycle Club
 was established by adjunct faculty member Monk Schane-Lydon and students in the 2017–2018 academic year. Students learn about the tools used, the parts of a motorcycle and how it operates, and bike safety—and then rebuild one for resale. Learn about the many 
clubs and organizations
 on campus.
Alumnus Rodney Christopher to speak at nonprofit forum
Rodney Christopher '86, a senior consultant in the Philanthropic Advisory Services division at Fiscal Management Associates, will be the keynote speaker at Berkshire Taconic Community Foundation's Board Leadership Forum on October 13. The forum, a daylong training and networking opportunity for nonprofit board members and executive directors, will be held at Simon's Rock. He will speak on "The Importance of Being Resilient."
Rodney has more than 20 years of experience in the nonprofit sector, bringing organizations and funders together to ensure that financial investments have a long-term and meaningful impact. He shares his Simon's Rock story below.
Phyu Hninn Nyein '05
is leading the way
for women in STEM
Phyu Hninn Nyein is at the forefront of innovation in farming technology as general manager of the Farm Advisory Services team for Proximity Designs in Myanmar.
The inaugural Women of the Future Awards, South East Asia, recently recognized her with a Community & Public Service Award for her contributions as a community-spirited woman in business under the age of 35.
Read
 about her journey from Myanmar to Simon's Rock, and back to Myanmar, where she is leading the way for women in the science, technology, engineering, and math fields.
Andre Green '97 named next executive director of FairTest
Andre Green
 is set to take over as executive director of FairTest, the National Center for Fair & Open Testing.
Henry Alford '80 pens new book on dance
Author, columnist, and humorist 
Henry Alford
 explored the world of dance as a writing assignment for the New York Times. He turned this personal journey into a part memoir, part history book, And Then We Danced, published in June.
Elibba Dean to teach in Austria through Fulbright U.S. program
Fulbright Austria awarded Elibba Dean '13 an English-language teaching assistantship for the 2018–2019 academic year.
Ronan Farrow's reporting for the New Yorker wins Pulitzer Prize
Journalist 
Ronan Farrow
 '99 exposed rampant sexual misconduct in Hollywood through his reporting for the 
New Yorker
. Four of his investigative pieces earned the magazine the Pulitzer Prize for public service.
Junior Madeline Eppley took care of the plants in the greenhouse at Fisher Center.
Summer activity on the Simon's Rock campus
Over the summer, the campus remains active. There are employment and academic research opportunities for students, and the College invites outside groups to take advantage of the campus and its facilities. In addition to the James Weldon Johnson Foundation artists, these groups were also on campus this summer:
Students worked in the Office of Admission, the Office of Marketing and Communications, Information Technology Services, at the pool at the Kilpatrick Athletic Center, on the campus farm, and in the Fisher Science and Academic Center, as well as with Daniel's Art Party. There were over 20 students working on research across the academic divisions.
The annual Young Writers Workshop welcomed a new cohort of high school students to campus to take part in this three-week creative writing program.
Faculty from the Bard High School Early College (BHSEC) network took part in a week-long Writing and Thinking Workshop.
Students from BHSEC Newark and BHSEC Queens.
A BroaderWay, an arts-centered camp for girls from urban communities.
Alumni from years 1968, 1973, 1978, 1983, 1988, 1993, 1998, 2003, 2008, and 2013 returned to campus for Reunion Weekend July 13–15.
The Peking Acrobats, who were in town for a performance at the Mahaiwe Performing Arts Center.
Flying Cloud Institute, a local organization that offers programs using dynamic science and art experiences to ignite creativity.
Bread and Puppet Theater Company coming to campus
The Bread and Puppet Theater Company will present a free performance of 
The Grasshopper Rebellion Circus
 on the back lawn of the Daniel Arts Center Thursday, September 13, at 5:30 p.m. This performance is part of the Simon's Rock Theater Program's ongoing Visiting Artists Program.